Description:
The 7600 Handheld Pulse Oximeter is a non-invasive, handheld patient Oximeter. It use OLED to display the arterial oxygen saturation (SpO2), pulse rate (PR), pulse strength andplethysmogram. It operates on battery power supply. It is compact, small, light, and easy for learning and handling. It is suitable for monitoring adult and child patients. It is widely used in the hospital's operation room, ICU, clinic section office, out-patient department, sickroom, emergency treatment, and the recovery and health care organizations, or in the family nursing and in the process of transporting patients.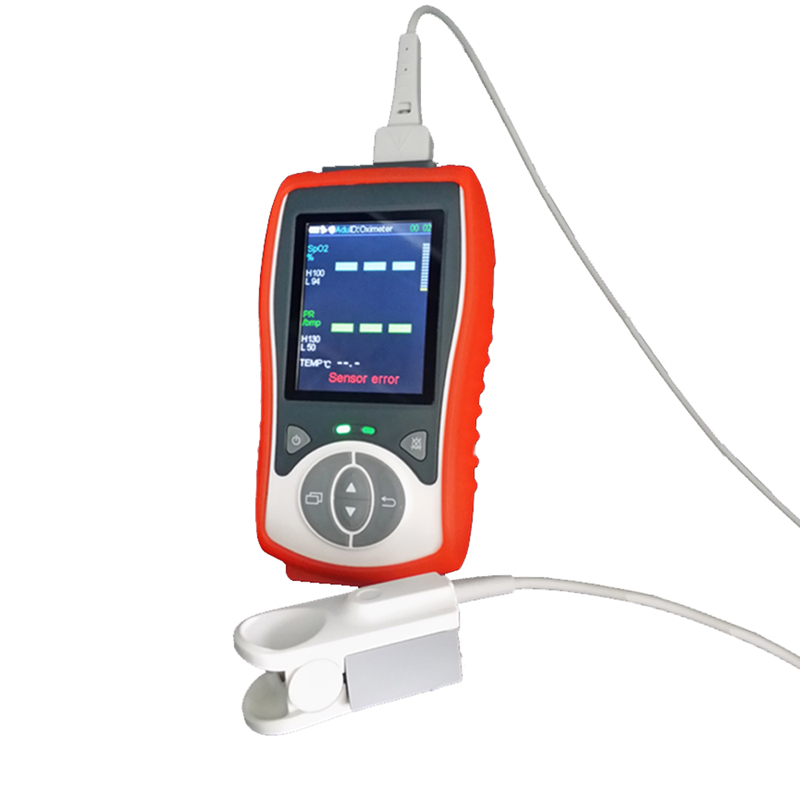 Features:
1. Lightweight for carrying and Easy-To-Use.
2. Silicone rubber shell protection and stable bracket for table usage.
3. Using DB9 type connector compatible with Nellcor Spo2 Sensor.
4. Support the oximeter probe for adult, neonate and infant.
5. Big size 2.8 inch color TFT LCD display for SPO2/PR/Pulse bargraph/ plethysmogram.
6. Visual and sound alarm function.
7. Ajust the parameters in friendly menu.
8. Low Battery voltage indicator.
9. Automatically switch off within 3 minutes when no signal.
10. Inner Flash memory can store testing result up to 360 hours.
11. USB interface support upload the data to PC and review the history data with software.
12. Standard 1.5V Alkaline Battery or rechargeable Li battery is available for power supply.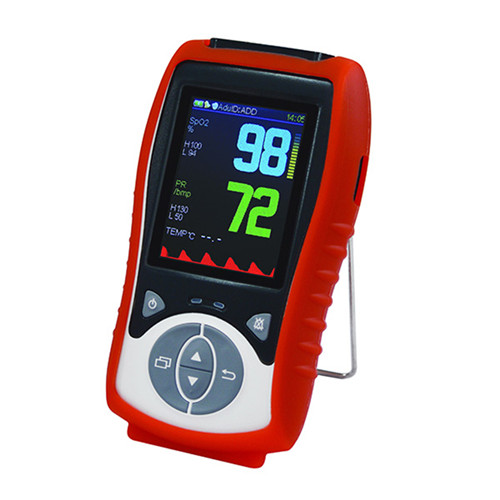 Parameters:
Power:4X AAA 1.5V Alkaline Battery or rechargeable 1000MAH Li battery
Spo2 display: 35%-99%
Pulse rate Display: 0-250 BPM
Power Consumption: Smaller than 80mA(Normal)
Resolution:
SpO2: 1% Pulse rate: 1 BPM
Measurement Accuracy:
SpO2: 2% (70%-99%); unspecified(<70%)
Pulse rate: 1 BPM
Low perfusion Condition: less than 0.3%
Packing:
1.main unit
2.user manual
3.adult finger clip spo2 sensor
4.usb cable
5.CD software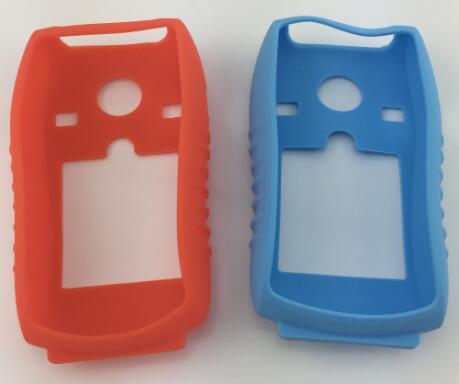 Optional:
1.adult siliconetip spo2 sensor
2.pediatric finger clip spo2 sensor
3.pediatric siliconetip spo2 sensor
4.neonate silicone wrap spo2 sensor
5.temperature probe
6. rechargeable Li battery