Parameters:
Three Parameters:SPO2、TEMP and Pulse Rate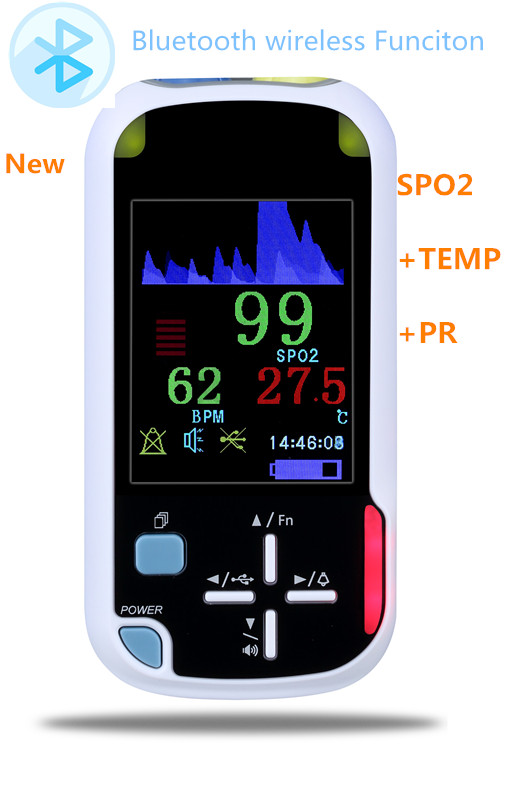 Waveforms:
Waveform: SPO2 waveform-PLETH
Features:
1 Monitoring SPO2, TEMP, PR & PLETH
2 2.8 inch color TFT LCD in real time display, displayable in big font and big screen
3 BlueTooth wireless is very convenient to realize reviewing the measurements in big screen via connecting PC and to upload history data to PC for review, printing or storage
4 Long time monitoring and sleeping monitoring
5 Storage/Review trend data up to 3888 groups, data save time interval settable
6 Audio and visual alarm when parameters exceeded and sensor-off
7 Built-in rechargeable Li-ion battery, up to 15-hour running time
8 Battery capacity indicator. Automatic shutdown for power saving
Applications:
The oximeter could be applied in the hospital's operation room, ICU, clinic section office, Out-patient department, sickroom and emergency treatment.
Standard Packing List:
Oximeter main unit 1unit
Adult finger SpO2 sensor 1pc
Skin surface skin TEMP probe 1pc
USB communication cable 1pc
BlueTooth Radio
VSDV/Guardian/BuleTooth Software disk 1 pc
The operator's manual 1pc
Selectable Accessory:
Pediatric finger/Neonatal Wrap SpO2 sensor
Specifications:
1. General
Monitoring Parameters: SpO2、PR、PLETH、Pulse strength、TEMP
Signal sockets:SpO2 socket、TEMP socket、USB socket(for charge battery and transmit data)
2. Display screen
Type: 240 × 320 dot matrix color TFT LCD screen
Display area: 43mm×58mm
3. Functions
PLETH: The monitor can display PLETH waveform
Intelligent parameter monitoring screen: The monitor automatically selects the parameter measurements to display according to the probes connected to the monitor.
Audio and visual alarm: The speaker sounds the alarm and the parameter's measurement will become in red to flash on the screen. Also the same when sensor-off.
Prompting: Icons of battery capacity, pulse sound switch and alarm sound switch.
Power saving: The monitor will automatic shut down to save power. The time is settable.
Trend: Storage/Review trend data up to 3888 groups, data save time being set freely
Data storage: The saved data will never be lost even if the monitor is powered off.
Communication: Transmitting the patient's trend to a PC for display, observation, saving and printing via USB or Bluetooth wireless
4. Electrical specifications
Working Voltage: D.C. 3.7V/3000mAH
AC power adaptor
Input: AC 100 V~240V, 50/60Hz, 5VA
Output: D.C. 5V
Internal battery
Type: D.C. 3.7V/3000mAH Li-ion rechargeable battery
Run Time: 15-hour continuous operation with a new, fully charged battery (environment temperature is 25℃)
Recharge time: 8 hours
5. Environment
Temperature
Operation: 0°C ~ 45 °C
Transportation and storage: -20°C ~ 60 °C
Humidity
Operation: 15% - 95 %( noncondensing)
Transportation and storage: 10% - 95 % (noncondensing)
Altitude
Operation: 86 KPa ~106 KPa
Transportation and storage: 50KPa~106 KPa
6. Parameter Specifications
SpO2
Patient: Adult, pediatric,neonate
Range: 0% - 100%
Resolution: 1 %
Accuracy: 70% - 99%: ±2 %
0% - 69%: Unspecified
PR
Range: 0 bpm ~250bpm
Resolution: 1bpm
Accuracy: ±2bpm
TEMP
Channel: 1
Input: Body surface thermal-sensitive resistor temperature sensor
Range: 0℃~50℃
Resolution: 0.1℃
Accuracy: ±0.2℃