Technical Specifications
NIBP
Measure Method: Automatic oscillometric
Patient: Adult and Pediatric
Measurement unite: mmHg/kPa selectable
Measurement mode: Manual, Auto, STAT
Measurement Type: SYS, DIA, MAP
Measurement interval in AUTO mode:1,2,3,5,10,15,20,30,45,60 and 90 Min
Measuring period in STAT mode: 5 Min
Measure range:
Adult:30~255 mmHg; child: 30~160 mmHg
Accuracy: 1 mmHg
Alarm limits range:
SYS : Upper limits70~250 mmHg, Lower limits 60~180 mmHg
DIA : Upper limits 40~200 mmHg, Lower limits35~150 mmHg
MAP : Upper limits 60~230 mmHg, Lower limits 50~160 mmHg
SpO2
Measure Range: 35~100%
SpO2 Accuracy: 2%(70~99%), 3%(40~70%)
Pulse Rate Accuracy: 1 bpm
Alarm limits range:
SpO2 upper limits : 95~100% lower limits: 85~96%
Pulse Rate:keep up with the heart rate
Temperature
Channel: 1
Input: Body surface thermal-sensitive resistor temperature sensor
Measurement Unit: °C/°F selectable
Measure range: 0~50℃
Alarm limits range: Upper limits 36~45℃ Lower limits 34~38℃
Measure accuracy: 0.1℃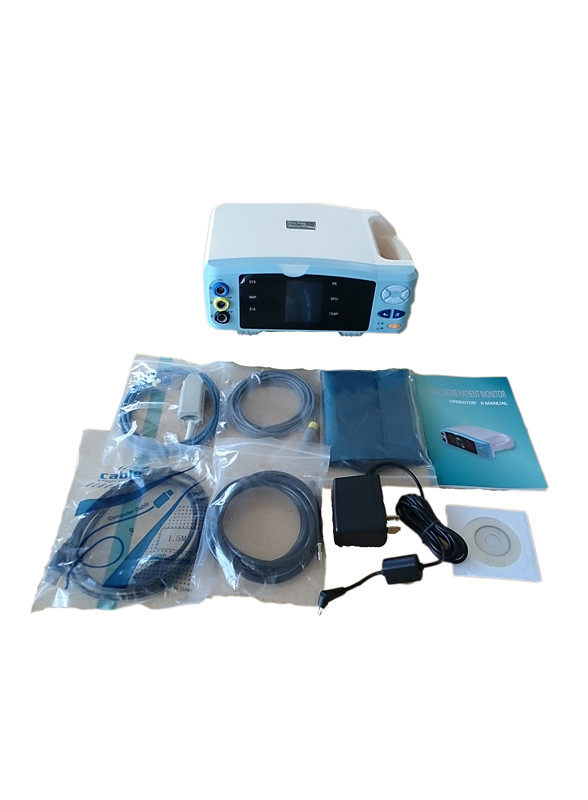 System specifications
Alarm ON/OFF: controlled by general switch and parameter switch (two levels)
Display mode: LED and 2.8' color LCD screen
Trend data: 3888 groups of SpO2, TEMP,SYS, DIA trend data, The record time interval can be set to 5 Sec. to 120 Sec. , so that the record time rang can be up to 128 hr.
AC power adaptor
Input: AC 100~240V, 50/60Hz, 0.7A
Output: DC 5V,2.5A
Internal battery
Type: 2800mAh/3.7V Li-ion rechargeable battery
Operating Time: 6 hours of stand-by time with a full battery.
Recharge time: 8 hours
Dimension:280mm×190mm×100mm